Rittz Accessories, a Leather Bag Manufacturer, guarantees that quality and style are met through craftsmanship. Rittz takes great delight in producing beautiful leather bags that are built to last a lifetime. We guarantee that every bag we make is a genuine work of art because to our dedication to excellent craftsmanship, careful attention to detail, and the use of the finest materials.
Each leather bag is meticulously created by Rittz Accessories using a specific procedure. The meticulous selection of leather hides of the highest caliber serves as the foundation. We get our leather from dependable vendors who value perfection as much as we do. To make sure they live up to our high requirements for texture, durability, and strength, the hides go through a comprehensive inspection.
Our talented craftspeople start creating once the leather is chosen. They mix conventional methods with contemporary innovation to produce bags that are both fashionable and practical. Each bag is painstakingly hand-cut, taking into consideration the distinctive qualities of the leather. These hand-selected hides are turned into gorgeous bags in a symphony of age-old methods and cutting-edge technology. Our skilled artisans start the process by carefully hand-cutting each component while paying close attention to the leather's natural properties. Every bag has its own unique spirit thanks to this personalized approach, which is a real monument to our artistry.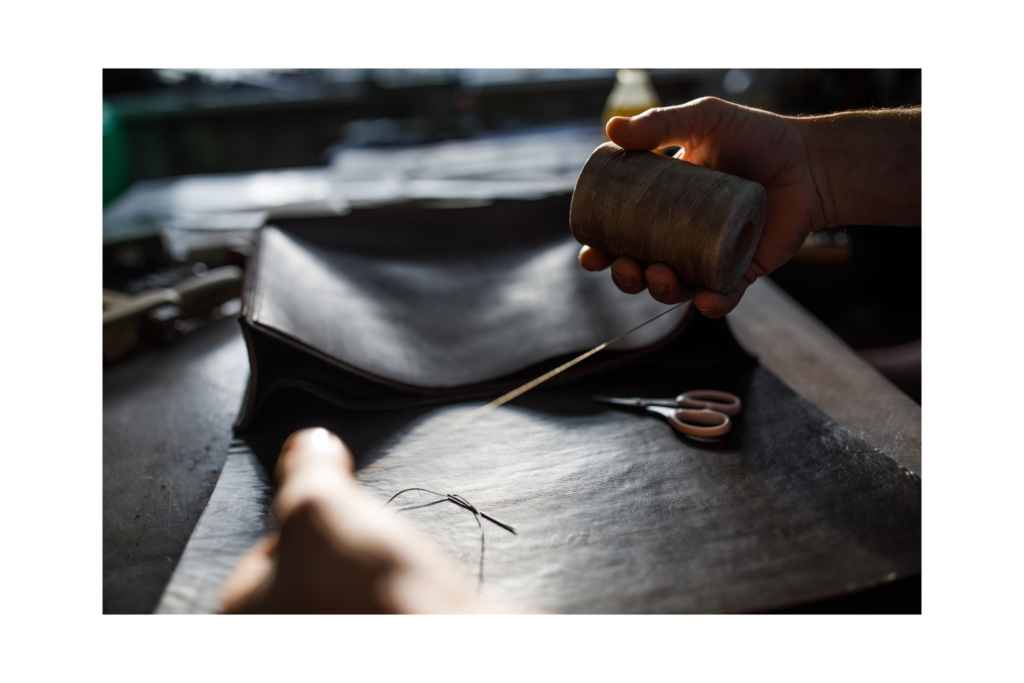 As a leading Leather Bag Suppliers in India, to bestow our leather bags with longevity, we devote unwavering attention to the final touches. Our artisans meticulously sand, buff, and polish each bag, endowing it with a refined and velvety-smooth surface. This meticulous process not only elevates the bag's visual allure but also fortifies it against the ravages of time. Our philosophy dictates that a meticulously crafted leather bag should gracefully mature, developing a unique patina that authentically narrates its journey alongside its cherished owner.
This ensures that every bag has its own distinct personality. Our deep-rooted commitment to artistry, attention to detail, and the use of only the finest materials ensure that each leather bag we produce embodies the epitome of sophistication, earning us the title of the best Leather Bag Manufacturer.
Next, our artisans employ their expert stitching skills, seamlessly uniting the various elements of the bag. Imbued with an acute sense of precision, they utilize top-tier threads and state-of-the-art sewing machines, resulting in robust and resilient seams. The artistry of the stitching not only ensures functional integrity but also enhances the bag's aesthetic allure, an exquisite manifestation of our unwavering commitment to excellence.
To enhance the longevity of our leather bags, we pay close attention to the finishing touches. Each bag is carefully curated, polished, and sanded to achieve a flawless finish. In addition to improving the bag's aesthetic appeal, this shields it from damage. A well-made leather bag, in our opinion, should age gently, acquiring a special colour that narrates the history of its owner's travels.
The main priority for us is quality. Before leaving our plant, every bag undergoes a stringent quality check procedure.Each bag is examined by our devoted staff to make certain it satisfies our high standards. We focus on close attention to each detail, including stitching, the hardware, and the operation of the zippers.We are a team of dedicated individuals in providing clients with products that exceed their expectations. Which made us well-known in other nations as one of the leading Leather Handbag Manufacturers.
Our dedication to quality extends beyond the manufacturing process. We also prioritize sustainability and ethical practices. We strive to minimize waste and ensure responsible sourcing of materials. By choosing our leather bags, you can feel confident that you are making an environmentally conscious choice without compromising on style or durability. We always ensure to keep ourselves as the Eco – friendly leather handbags.
Our collection provides a variety of styles to fit any lifestyle, whether you're searching for a slick and sophisticated briefcase, a beautiful and functional tote or a tough and adventurous backpack. You can make a statement everywhere you go by carrying one of our leather bags, which exude class, refinement, and ageless appeal.
Experience the unmatched quality and workmanship that characterize Leather Bag Manufacturer. Each creation narrates a unique tale, and we extend an invitation for you to become part of this enchanting narrative. Explore our collection, and discover the ideal companion for your odyssey, be it near or far.
Experience the unparalleled craftsmanship and quality of leather bags from India's Leading Leather Bag Suppliers. Each bag tells a story, and we invite you to be a part of it. Browse our collection, and discover the perfect companion for your near and far journeys.